To Dance Inside the Music is a site that celebrates aspects of Cape Breton and Scottish dance culture and transmission of the same. The aim is to share video and photos of Cape Breton step dancing and Scottish dancing as I have experienced  and researched it for the past 30 years or so.
The main features will be sharing video clips of dances and steps that I have observed or which have been shared with me over the years from both the Cape Breton and Scottish dance cultures.
I spent a little over ten years effectively working as a modern Scottish Dancing Master or 'Dancie' around Scotland between 1995-2006 primarily in Shetland, Sutherland, Angus and Perthshire. Some of my experiences, dances and events are worth sharing in a retrospective blog with photos.
As a companion to my forthcoming book "One with the Music: Cape Breton Step Dance Tradition and Transmission" (Oct 2015) published by Cape Breton University Press I will post some related step dancing routines as video clips with full notation and music transcription.
Finally, there are links to various articles on Scottish and Cape Breton dancing.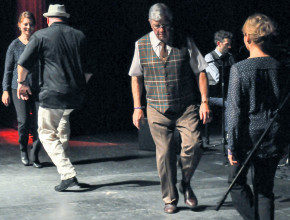 A Scotch Four danced at Celtic Colours Festival 2014.
(c) M. Melin 2014,  used with kind permission by Celtic Colours International Festival