One With the Music: Cape Breton Step Dance Tradition and Transmission is informed, in part, by Melin's PhD research on transmission practices—how the tradition and steps of generations of dancers in Cape Breton get passed on to subsequent generations. His research gives us insight not only into the processes of transmission, but also into the complex ways dance and music in Cape Breton are deeply ingrained in the island's culture. In this book, the home, classroom and square-dance contexts—and, to some extent, concerts—are examined and analyzed following years of interviews and participation.
The Book is published by Cape Breton University Press and now available through Nimbus Publishers and can be purchased on Amazon as well.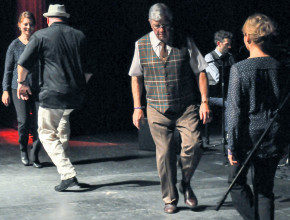 A Scotch Four danced at Celtic Colours Festival 2014.
(c) M. Melin 2014,  used with kind permission by Celtic Colours International Festival